Water Damage Milwaukee
Weather Alert: If you are experiencing ice damage, frozen pipes, or severe weather, call us today for emergency assistance!
911 Restoration Milwaukee
You can reach 911 Restoration of Milwaukee at any hour of the day or night, every single day of the year. We provide emergency service 24/7/365 and guarantee an arrival time of 45 minutes or less. We also understand how overwhelming it is to make sense of a property disaster when you're still in thick of it. That's why we do all we can to anticipate your concerns and answer your questions upfront.
We offer a free visual assessment (for property owners only), as well as a free insurance consultation. 911 Restoration of Milwaukee works with all insurance providers and services both residential and commercial properties. We are licensed, insured, and bonded.
At 911 Restoration of Milwaukee, we offer a Fresh Start with our comprehensive selection of property damage restoration services, including but not limited to:
Whether you're a Milwaukee homeowner or business owner, 911 Restoration of Milwaukee is your Fresh Start! We'll communicate with you throughout the entire process, help answer questions related to insurance, and restore your property to its pre-damaged condition. One of our IICRC-certified teams is dispatched within 45 minutes of your call! Contact us today, and one of our friendly representatives will assist you in finding the nearest Milwaukee location.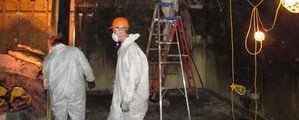 Service area map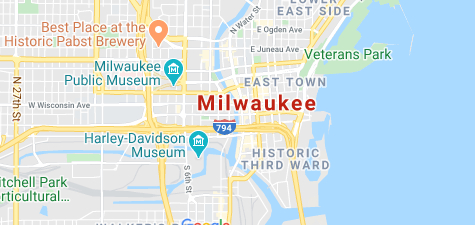 911 Restoration of Milwaukee is the licensed, bonded, and insured full-service provider that you need for all manners of disaster restoration. 911 Restoration of Milwaukee provides relief from any disaster. Whether you've been hit by water damage, a fire, a tornado, a sewage backup, mold contamination, or anything else, we're here for you. Our technicians are highly trained and IICRC-certified to provide the best service.
Give us a call for all the restoration services your home needs today!
Sherry M.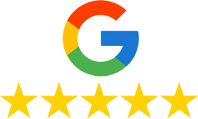 "I would give them 6 stars if I could. I had to deal with a flood in my business, an absolute nightmare for every business owner. [911 Restoration] came right away, and they are so professional and efficient. Even after everything was done they followed up and made sure everything was back to normal. A+ customer service. Thank you!"
911 Restoration of Milwaukee
From water damage clean up Milwaukee to fire cleanup, make 911 Restoration of Milwaukee your first call in a disaster. Our IICRC certified crew is here for you day and night, 365 days a year. We guarantee an arrival time of 45 minutes or less, so you can count on immediate solutions and a swift recovery. We train every one of our technicians to meet the highest standard of service in all areas of restoration. When you call 911 Restoration, you can count on a Fresh Start. We do everything from cleanup to roof repair.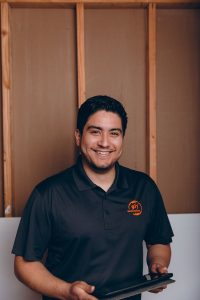 You can trust our experts to serve you with compassion. We recognize the incredible stress you're under, whether you're dealing with a pipe burst, mold problems, or property fires. Our caring technicians know that your home or business is your greatest asset, and they work hard to make your property new again.
911 Restoration serves residential properties in We are locally owned and operated, as well as licensed, insured, and bonded. Call us today for a free visual inspection (for property owners only). Furthermore, we even provide a free insurance consultation and work with all providers.
Whatever type of disaster you're facing, you have an ally in 911 Restoration of Milwaukee. Call now and breathe easy.
Water Damage Restoration
We provide everything you need to make a full recovery from water damage in Milwaukee. Our flood cleanup crew arrives in 45 minutes or less and works at top speed to get standing moisture off your property. They pack out and store your undamaged belongings and extract water as quickly as possible.
We believe in offering a comprehensive water damage restoration service. Turn to us for emergency boarding up and storm repair, as well as long-term concerns like industrial mold inspection and structural repair. Our workers even disinfect your basement floor after a flood. 
At 911 Restoration, we believe basic flood cleanup isn't enough. Our water damage restoration crew in Milwaukee wants to turn this disaster into an opportunity for a Fresh Start. Call us now, and we'll be there in less than an hour.
Sanitization and Disinfection Services
Maintaining a clean property has never been more important… or more complicated. In the midst of a global pandemic, the standards for property disinfection seem to shift every day. This presents an especially large burden for commercial property owners.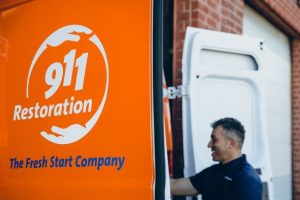 Firstly, 911 Restoration is here to help. Our sanitization experts are trained to follow all current protocols. They provide deep cleaning and disinfection for all property types, from private residences to offices and commercial facilities. Above all, they communicate clearly, so you are armed with the insight you need to put your staff and customers' minds at ease.
Reach out to 911 Restoration of Milwaukee for sanitization and disinfection solutions.
Mold Removal
More importantly, with the prevalence of industrial water damage in Milwaukee, mold is often a problem. Fortunately, you have a reliable mold remediation contractor right at your fingertips. 
Our mold inspection crew checks for signs of infestation throughout your property, including those dark spaces where fungus thrives. On top of that, we use only the safest and most effective mold removal methods to ensure your infestation is gone for good. Our crew even dehumidifies the structure and repairs all stained surfaces.
It is absolutely imperative that you address a mold removal Racine problem right away, no matter how big or small you believe it is. If you need mold removal in Milwaukee, call us today.
Sewage Backup and Cleanup
A sewage backup cleanup Milwaukee WI is a horrific experience for any property owner. Toilet water contaminates your home or business with disease-carrying microorganisms and a nasty stench. At 911 Restoration of Milwaukee, we promise to make your property new again.
Our sewage cleanup crew is extensively trained in water damage restoration and property repairs. These experts arrive in 45 minutes or less, 24 hours a day, and they extract all sewage immediately. You can count on our team to disinfect your space thoroughly and dry your property to prevent long-term water damage. We even take care of your mold inspection, mold removal, carpet removal, and any other repair needs.
Believe it or not, your property can feel pristine again after a sewage backup. Just call 911 Restoration for sewage cleanup in Milwaukee and surrounding areas.
Fire and Smoke Damage Restoration
Fires, puffbacks, and even the contamination of cigarette smoke can leave your property feeling irreparably damaged. Don't worry. 911 Restoration is here to give you a Fresh Start!
We provide compassionate, comprehensive fire damage restoration Milwaukee in Milwaukee. Our team of highly trained and certified fire and smoke cleanup techs take care of everything you need for a full recovery. That includes packing out services, smoke removal, permanent odor removal, and structural repairs. They even clean soot and smoke from your furniture and dishes. 
In addition to giving you a Fresh Start, our fire damage restoration staff works hard to put your mind at ease. Turn to us for a free fire damage assessment and free insurance consultation. We're here to answer your questions 24/7. Consider 911 Restoration of Milwaukee your fire information center.
Call now and look forward to a Fresh Start.
Disaster Restoration
There is no disaster too big for 911 Restoration of Milwaukee. Our team of expert technicians is here for you 24 hours a day, 365 days a year, in flood, tornado, fire, and any other disaster.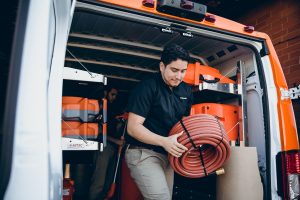 We equip every member of our crew to handle water cleanup, structural repairs, and everything in between. Our staff works quickly and compassionately to ensure you receive outstanding service and genuine peace of mind.
911 Restoration of Milwaukee works with all insurance providers. We invite you to take advantage of our free insurance consultation. A disaster restoration staff member explains your coverage in clear terms so you know exactly what to expect financially.
No matter how bleak things may look right now, a Fresh Start is just around the corner. Call 911 Restoration today.
Commercial Restoration
Not every restoration contractor is equipped to meet the unique needs of business property. On the contrary, many contractors only specialize in specific disasters. That's why you should make 911 Restoration of Milwaukee your first choice for commercial restoration. Our professionals are not only trained in all areas of damage restoration, they are regularly educated in all the state-of-the-art equipment used to bring your property a Fresh Start! In light of the pandemic, it's only common sense to go with professional and certified experts.
Our IICRC certified crew understands what's at stake when your property is in danger. Whether you need industrial water damage restoration, sanitization services, fire cleanup, or anything else, our technicians treat your property as if it were their own. They work swiftly so you can get up and running as soon as possible. We also hold our entire company to the highest standard of service. Our team understands that your building is your brand. Trust them to leave you with a property that's as strong and clean as the day you bought it.
This disaster is only temporary. Call 911 Restoration of Milwaukee and let us deliver a Fresh Start.
Serving the communities of Bayside, Brown Deer, Burlington, Caledonia, Franklin, Franksville, Greendale, Greenfield, Milwaukee, Mount Pleasant, Oak Creek, Sturtevant, Waterford, Wauwatosa, Cudahy, East Town, Fox Point, Hales Corners, Kansasville, Elm Grove, Racine, Shorewood, South Milwaukee, Saint Francis, West Allis, Whitefish Bay and surrounding area.