Water Damage Sturtevant
If you find yourself ankle deep in a flooded basement, you can call the water damage Sturtevant team at 911 Restoration Milwaukee and you will have help at your door before you know it.
We are licensed, bonded and insured to remediate all causes of flood and leak damage, such as:
Ruptured hoses

Flooding

Leaky shower pan

Ice machine Malfunction

Burst Pipes

Roof leaks

Sewage backups

Appliance malfunction

Water heater explosions
Our Sturtevant water cleanup staff wants homeowners to feel comfortable calling us the moment they experience a water emergency, so we keep our phone lines available 24/7/365.
Call our water damage Sturtevant experts today and we will conduct a thorough, free home inspection as soon as we arrive.
Keep Your Basement A Leak Free Zone
Every homeowner understands just how susceptible a basement is to becoming flooded. This can be due to many reasons, with pipe bursts being one of the most common.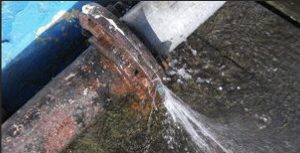 During the winter months, the freezing weather can cause pipes to become frozen, which also will freeze any water inside of them.
That frozen water can expand, causing pressure to build up and burst the pipe. Cracks may also form, which can pose other issues once the plumbing thaws.
Once water begins freely flowing through the piping again, it will leak from these cracks, or gush out if the burst is severe enough.
All this water can cause extensive damage to the property, causing the homeowner to reach out for professional assistance.
Call our water damage Sturtevant workers the moment you notice any mysterious moisture in your basement, or anywhere in your property, and we will come check it out right away.
We Will Keep You Safe Throughout The Water Damage Remediation
With so many years of experience in the home restoration industry, we completely understand the importance of getting the IICRC certified help of the water damage Sturtevant technicians.
You want a company you trust working for you, and we promise to be that company. 
When you call us, you can guarantee that you will have help at your door within 45 minutes, with our Sturtevant floodwater cleanup operation fully prepared to provide you with same day services.
Having this trust with our customers allows for a smooth, and stress-free restoration process, which is exactly what we want to provide to you.
Customer service is very important to us, and our water damage Sturtevant unit makes it a priority to make you feel comfortable with e every aspect of the procedure.
Call our water damage Sturtevant team with 911 Restoration Milwaukee the moment you need help or have any questions, and we will be there to give you the fresh start you deserve.