Water Damage Oak Creek
911 Restoration Milwaukee provides assistance for all kinds of water damage Oak Creek emergencies including roof leaks, pipe bursts, toilet overflows, and even flooding!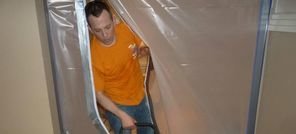 Our water damage Oak Creek specialists are always ready to give your home a fresh start through quality repairs and restorations!
That leak can eventually lead to structural issues within your home.
Luckily, before water emergencies can cause major problems like wood rot or mold growth, 911 Restoration can be there within 45 minutes of your call to provide you with immediate assistance.
We are fully committed to making your home a comfortable and safe place for you and your family with our services. Once the team arrives, you can expect them to provide you with free inspection and estimate too.
If your home is already undergoing a water invasion from a pipe burst, ceiling leak issues, or even flooding, don't hesitate to contact our water damage Oak Creek experts with 911 Restoration Milwaukee today!
Water Damage and Pipe Burst Prevention Tips
Water damage can come in all shapes and sizes. Among the issues that can affect your home include pipe bursts and plumbing leaks. Plumbing issues can lead to other major problems including flooding, wood rot, and mold growth.
The best way for you to avoid these issues from plaguing your home is by preventing plumbing leaks from occurring in the first place. In this regard, the licensed, insured, and bonded team from 911 Restoration is more than happy to assist you. Here are a few tips from our specialists:
Regularly check your pipes for any signs of cracks, rust, or leaks. Detecting these problems early on can prevent any further issues and can help you check for any signs of mold growth.
Examine your heater and boiler. Make sure they are maintained properly to ensure they continue to function properly.
Know where you can turn off the main water line. When pipe bursts occurs, knowing where to turn off the water line can make the difference in preventing flooding. During winters, it's also a good idea to turn off the water line whenever you're out of the house for extended periods of time.
Especially during winters, make sure that your pipes are sufficiently insulated to prevent bursts while you're at home.
By following our tips, you prevent pipe bursts from harming your home. But whenever a leak does occur, you can count on 911 Restoration to be there to help.
If your home is already experiencing the vile nature of a water damage incident from a pipe burst, cracked water heater, or any other means, then don't hesitate to contact our water damage Oak Creek experts with 911 Restoration Milwaukee today!
Water Damage Repair and Restoration

911 Restoration's IICRC certified technicians are trained and equipped to handle your various water emergencies. We will provide you with repairs and restorations that will ensure that your home gets back to shape.

We will be making use of state-of-the-art drying technology that will extract water and moisture from the affected area.
Our technicians will even help out with all of the insurance paperwork that is concomitant within the claims process.
We make sure to always put the customer first with every project that we do.
When any of these issues occur, 911 Restoration is the company that you can always rely on for help. We are available 24/7 to lend you a helping hand when you need it.
We work with only your absolute satisfaction in mind. Have us patch up those leaking pipes. Let the water damage Oak Creek specialists with 911 Restoration Milwaukee give your home a fresh start today!