Water Damage Cudahy
If your home becomes flooded by invading liquids the Cudahy water damage pros with 911 Restoration Milwaukee will be at your home in no time, ready to offer affordable, thorough restoration work in a timely manner.
When water damage occurs in your home it can cause the porous items and materials to become saturated with water, damaging the objects and causing them to warp, rot and disintegrate beyond repair if left too long without mitigation.
911 Restoration Milwaukee's Cudahy water removal team knows how to help prevent both possession loss and structural damage to the home.
With years of experience in the industry, we understand better than anyone how important it is to get water out of the home after a flood, so we make sure to send crews to the damage site within 45 minutes of the reported emergency.
The offices in Cudahy are open around the clock, 24/7/365, including holidays, to ensure that all of our customers get the quick service they deserve.
Mold Can Easily Grow After Water Damage
It is possible for mold to grow in even the smallest amount of water. If there are spore present, then it just takes some moisture to be present to cause them to develop into a full infestation.
Our Cudahy water damage Cudahy specialists are trained in the following areas of water damage restoration:
Pipe bursts
Pipe freeze
Flooded basements
Mold remediation
Fire sprinkler repair
Ceiling leaks
Washer hose bursts
Toilet overflow
We use only the most advanced equipment available when it comes to getting water out of the home and drying the premises. Our goal is to always get the home looking pristine and making sure that there are no traces of mold.
The IICRC certified Cudahy water remediation techs know how to fully remediate mold, fungus, mildew and spores from the property. We use the proper gear to keep everyone involved in the process safe.
Even if you do not see the signs of mold, you may be able to feel them, which is why you need to call our licensed, bonded and insured Cudahy water damage team as soon as you sense a problem.
All Aspects of the Water Damage Restoration Process
In order to make sure you don't feel like you are taking a risk by calling us, we conduct free visual mold inspections and give free home estimate.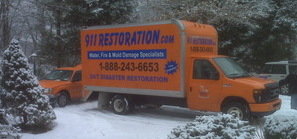 We want all of services to be up front with the homeowner, that way there are no surprises later on down the line.
The Cudahy leak detection techs always make sure to offer the most competitive prices in the industry, including working with all major insurance companies.
When there are mold spores in your home environment then they can cause significant health issues in the people living inside the property. Most likely allergy-like symptoms persist, such as breathing problems, rashes, itchy eyes and headaches.
We will do all the work for you when it comes to filing your claim, from submitting the paperwork to speaking to representatives on your behalf.
We know better than anyone how to get your out-of-pocket expenses down, and we make it our priority to put the customer first.
When you notice unwanted water in your home call the water damage Cudahy professionals right away. We can't wait to give you a fresh start, so call us today!