Preparing Your Home for a Wet Winter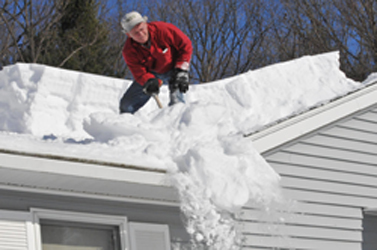 Are you ready for the wet winter months? 
December is finally here, and thanks to El Niño it's going to be a wet winter all around. Several storm systems are already brewing through the Midwest and East Coast, bringing with them the promise of rain, ice, and snow. During these wet months many houses are at risk of suffering from water and structural damage, not to mention mold from the increasingly damp atmosphere. Make sure your house is ready for battle by following these 10 steps for winterizing your home before the storm hits.
Clean all the leaf debris and gunk out of your gutters. Leaves that get stuck in gutters and storm drains can cause mold to grow and threaten your roof and the side of your house. This is also a good way to keep ice from accumulating and backing up under your shingles.
Extend downspouts are far as possible, at least 3 to 4 feet away from your home's foundation, to decrease the chance of water damage. Extension gutters and piping are easy to install and are relatively cheap at your local hardware store.
Keep your trees trimmed and clipped away from your house and any hanging power lines. Heavy snow fall can cause branches to break away and damage your home, or fall on nearby power lines and cut off your power. Having no heating is no fun in the middle of winter.
Invest in a roof rake to help disperse snow build up on your roof and decrease the chance of your ceiling giving in. A typical good-quality roof rake can usually be found at your local hardware store at around $100.
Before the freezing temperatures truly set in, check your windows and door for cold drafts. If the gap between your window or door frame is wider than a width of a nickel, you might want to reapply some caulk or install weather-stripping to keep temperature leaks out.
Remove your garden hoses, roll them up, and store them inside to keep them from cracking in the cold weather. Wrap any outside faucets or exposed pipes to avoid icing and pipe bursts.
Turn off and drain your lawn irrigation system if you have one. For this you will most likely need to call a plumbing professional, so make sure to plan ahead and get this done before the first big winter storm hits.
Know where your home' main water valve is so you can quickly turn your water off in case of a pipe bursting. Your water valve can usually be found in your basement or outside near the curb.
Stock up on all essential snow needs. Make sure you have plenty of salt, sand, and ice melt on hand and that your snow shovels are ready for another season of hard work.
Hire a contractor to come check on the structural stability of your home and roof. There may be a small leak you can't see or reach that will be more obvious to a professional eye.
Of course, the best way to take care of water damage is through prevention, but if you do find yourself with a roof leak or a pipe burst, be sure to give our water damage experts a call!