Water Damage: causes and how to prevent it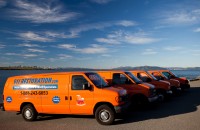 The list of water damage causes is very extensive. One cause is sewage leaks, most notably caused by tree roots fouling up the drain lines. Another common type of water damage is basement flooding and this is usually due to aging infrastructure and humidity. Storms with heavy rainfall can cause floods which leads to water damage.
If your ceiling leaks, you will likely experience water damage. Faulty plumbing is also a leading cause. Appliances can malfunction (such as the dishwasher or washing machine) and it can cause water damage. There can be hidden water damage that might not be noticed until mold is spotted on the wall, especially in bathrooms. The faucet could be leaking out of your view. These hidden leaks can cause serious damage.
In order to perform water damage restoration, you need to stop the flow of water first, especially if it is a burst pipe or water heater leak. The main water line for your home should be turned off. Pump out all of the standing water because the longer you wait the more damage the water will cause.
You should then allow everything to dry, especially carpets because they need to dry out. After all of it is cleaned up, you can further access the damage and determine what restorations need to take place, such as wood floor restoration and cabinet restoration. It is clear there are many aspects to water damage and water damage restoration.