Water damage restoration: detecting Water Leaks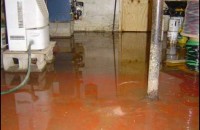 When it comes to water damage and restoration, this is one area I never look anywhere else but professionals. The last thing I want to do is leave the water damage alone or try to work on it myself. This is just going to result in mildew and mold growing throughout my home. As I am allergic to mold, I'd probably have to end up moving out of the house if I decided to try at it on my own and correct the situation.
This is exactly why, when I walked into my home one day after being on an extended weekend vacation, I discovered the basement was leaking. I reached for the phone and called the professionals right away. The faster I was able to move I knew the less damage it would be, the more money I could save, and the less time it would take to correct the situation.
One area to look at when it comes to water damage and restoration is the flooring and the walls. Even if all the carpet is removed and other items gone, water can soak into the flooring and walls. Basically, this needs to be removed in order to see if there is anything wrong with the house at all. While I would have no idea what to do, the professionals I brought in knew exactly what to do.