Water restoration: Choosing the best restoration company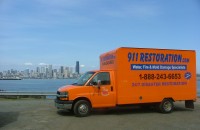 Finding the right provider of water damage restoration in your area can be a great advantage. If you have had recent floods or storms in your area, you might need to think about preparing to control the damage you sustain. There are many plumbing leaks that can spring up when excess flood waters pour in to a home. If you have older plumbing, you may even notice that a pipe burst has occurred. This may mean that lower sections of your home will become flooded, which will require pumping water out and general cleanup service.
Think about how you can obtain these water mitigation services in your home sometime soon. Flooded houses may be stressful for the owner, but they will need to think about where they can go to get the support that they need. You may need extensive restoration services before you find that your home is brought up to par.
When you look for a company, make sure that you can contact the right one in your area sometime soon. The best ones will be able to offer same day service, which can prove to be exceedingly important during storms. Whether you are facing rain leaks or plumbing leaks, you can get the support that you need with the right company. Talk to your contractor about any water repair questions that you may have soon.