Water Damage Remediation In Racine
Fixing the sources of water damage for the people of Racine and the surrounding areas gets Doyle Keith and his crews with 911 Restoration Milwaukee going every day.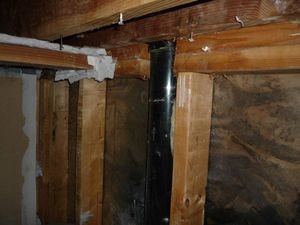 Finding the source of trouble and solving it before other restoration companies can even get a technician out to come and look at an issue is just one of the many aspects of Doyle's business that makes him a leader in the industry.
"I love the feeling that I get when I give someone back their home in way better condition than it ever was beforehand and all they can do is marvel," Doyle says. "That's a great feeling."
And with the advanced level of expertise, technology and customer service that he brings to all of his restoration tasks, there are numerous satisfied customers that can testify to his quality of service and work.
Doyle knows through countless experiences that being on the scene quickly and completely prepared is one of the benchmarks of quality that can't be missed. This is why his teams are forever available with 24/7/365 service to ensure a quick response whenever it is needed.
Prepared For Lake Effect Weather.
Being ready and capable of solving homeowner's problems at a moment's notice is about more than simply being able to respond to any call within 45 minutes. It's also about knowing how to handle the extremes of weather that Lake Michigan can produce at a moment's notice.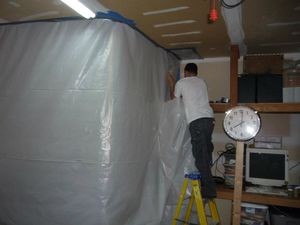 Knowing when and where storms and heavy snowfall will occur is part of the way that Doyle stays ahead of any water damage remediation Racine issues that he and his teams encounter. In addition to this, he has the technology and the personnel in place to handle any kind of situation whenever it surfaces.
Doyle knows that Lake Michigan has a profound capacity to create its own weather systems and this means that there is an increased risk for Racine residents due to the proximity of the lake and the possibility of a severe storm or massive snowfall taking a toll on properties in the area.
This kind of extreme weather can cause pipe bursts, roofing ice dams to form, and even cracks in the foundation of your home or business.
"We always advise people to clean out their gutters before winter hits," Doyle says. "This is because a clog can form a barrier where water freezes and then expands breaking apart the layers of the roof, introducing the likelihood of water damage when the dam melts."
In addition to cleaning gutters every fall, Doyle also suggests keeping the temperature of the home or business above the freezing point too. This will help to ensure you don't have a pipe burst which can be extremely costly to repair.
Being the Best Means Going the Distance.
When a water damage emergency call comes into the system, Doyle doesn't waste any time getting to the scene and solving the problems.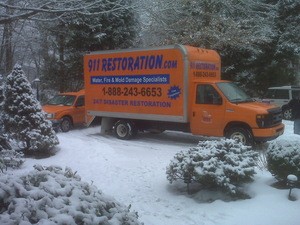 There have even been some instances in which Doyle has traveled out of his service area and to great distances in order to provide a client with the help that they need.
"We don't want to ever let anyone who needs our help go without it, even if that means going to great lengths to provide them with service," Doyle says.
Doyle will even fill out and file the insurance paperwork for his clients when they have a job for him that requires it. This always helps to ensure that nothing will be missed in the paperwork, and that the insurance agency will cover all of costs they are responsible for.
Don't give water damage a chance to storm through your home and create chaos in its wake. Give Doyle and his specialists with 911 Restoration Milwaukee a call today for any help you need!